I was browsing the internet, blogs, pinterest…. you know the usual. While I was doing this I had a light bulb moment for today's Blog – Freaky Friday! As in super cool stuff I am finding online and what I mean by that is Freakishly fun and creative ideas for re-doing furniture and stuff. I am so inspired by other people's creativity. I love the ideas and execution of these folks and their super fun projects. I am so inspired indeed that I find it necessary to pass on some of the inspiration I am finding online. Come along for the ride!
As you can see from the watermark, I found this picture on Mandy Gubler's blog
Vintage Revivals
. She is soooooo creative and has tons of wonderful ideas on bringing things back to life in very interesting ways. She was on Nate Berkus too – immmmpreeeesssssive!!! Here are just a sampling of some of her other ideas that are my personal faves.
I do worship the striped Hallway (especially the fun blue stripe with chevron) but that is not my favorite thing about this project. My favorite thing is her genius repurpose of planter baskets in to Chandeliers! Look at them – so fab!
Ombre Lampshade… and it is a hanging ceiling pendant too. Her brain must be a fun place to hang out!! I could go on and on all day about her fun projects. Just go check her out at
Vintage Revivals
and get inspired.
Seriously, how gorgeous is this?? What a great chandelier DIY. I found this one at the
Shabby FuFu
Blog. This blog is actually new to me. I found this picture on Pinterest and I love it!
Door as a headboard… so pretty! I found this one at the
Grand Design Co.
blog. Clearly I have a deep love of this Teal Color as well!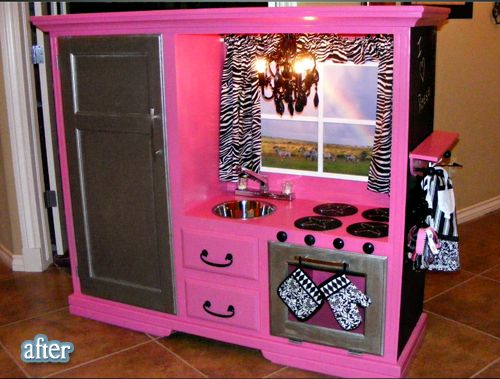 And the crazy Freakish and Fun Creativity Award goes to…. drumroll…. this awesome Hot Pink Zebra Armoire turned Kitchen I found on Pinterest via the
Better After
blog! If I had girls I would so be doing this!!
I am loving so many Blogs right now! Perusing them is my new Favorite Hobby! Keep it up people… and I better get moving on projects because I am feeling so inspired!
See You Soon……